Nutrition Support in the Management of WD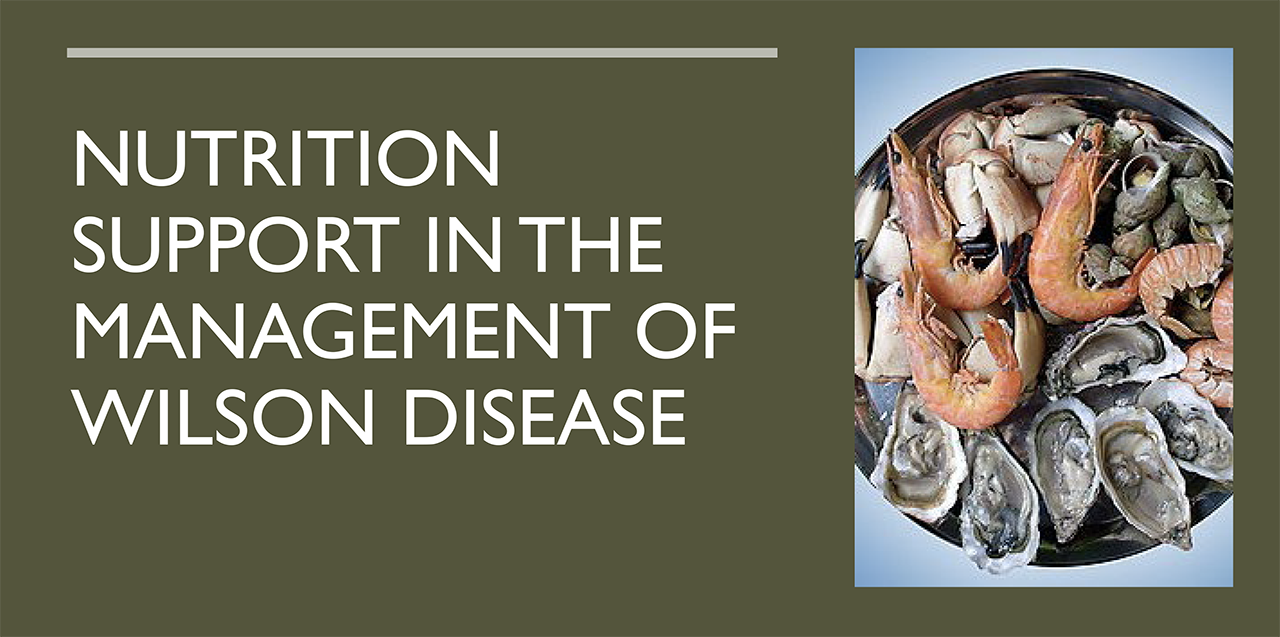 We're excited to share our preliminary plans to educate the Wilson disease community about copper conscious eating, drinking, cooking, shopping, dining out and more. We've brought together an excellent team that includes nutrition experts, media professionals and people living with WD to formulate an educational campaign that includes webinars, videos and digital materials. And you helped by completing our 2021 copper and diet survey. As a result, we've received grant funding from two pharmaceutical companies to get us started!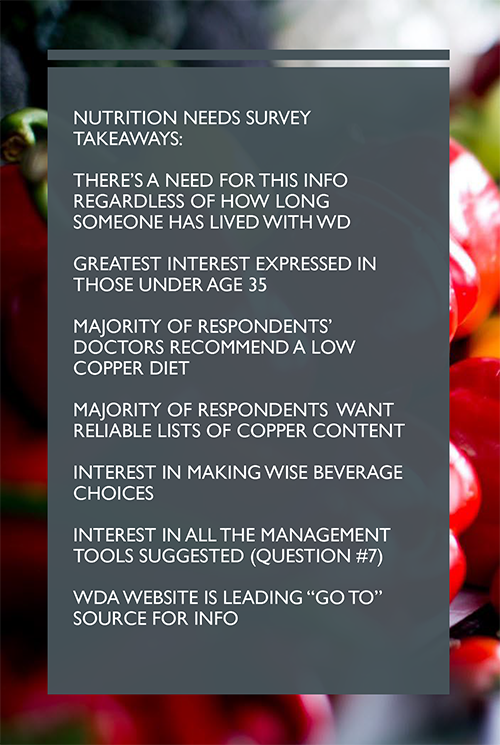 The trace mineral copper is as essential as vitamins in a healthy body. Copper is present in most foods, with high amounts in shellfish, organ meats, chocolate, mushrooms and nuts. There is copper in water too. The problem for people with Wilson disease, is knowing how much copper is in various foods and beverages, and how often – if ever – they can consume them. Doctors who treat WD patients say "one size does not fit all." There is not a designated Wilson disease diet. That's because no two people with the disease are exactly alike. They are diagnosed at different ages and stages of disease severity. Since there are at least 600 Wilson disease-causing mutations of the ATP7B gene, it manifests differently – even in families where more than one person may have the disease. So, it's up to patients and their caregivers to make the most educated decisions they can about their dietary copper consumption.
Making informed decisions about food and beverage choices is daunting because there is no comprehensive resource for registered dietician nutritionists (RDN's) or patients that can provide clarity beyond suggesting that patients avoid high copper foods. Lists often conflict, and can be confusing to the lay person who may not understand how to interpret, and put into practice the copper content amounts.
With so much ambiguity and a lack of consensus, patients and caregivers can become frustrated, or not adhere to copper conscious eating and drinking. The medical profession does not have the tools and resources to provide comprehensive guidance on meal preparation for the entire family when one member – or more – has Wilson disease. That's also the case with water and other beverage selection, grocery shopping, dining out and enjoying special occasions. Patients may feel deprived, anxious about what they're eating, frustrated and confused when trying to interpret food charts and labels. Can a patient enjoy a slice of chocolate birthday cake if they cut back elsewhere? Does it make a difference if you eat white chocolate rather than dark chocolate? And, some foods that are known to be good for overall liver health – such as almonds, for instance – are also high in copper. How does a patient balance that opposing information?
This quandary and these questions are behind the development of our project goals and objectives: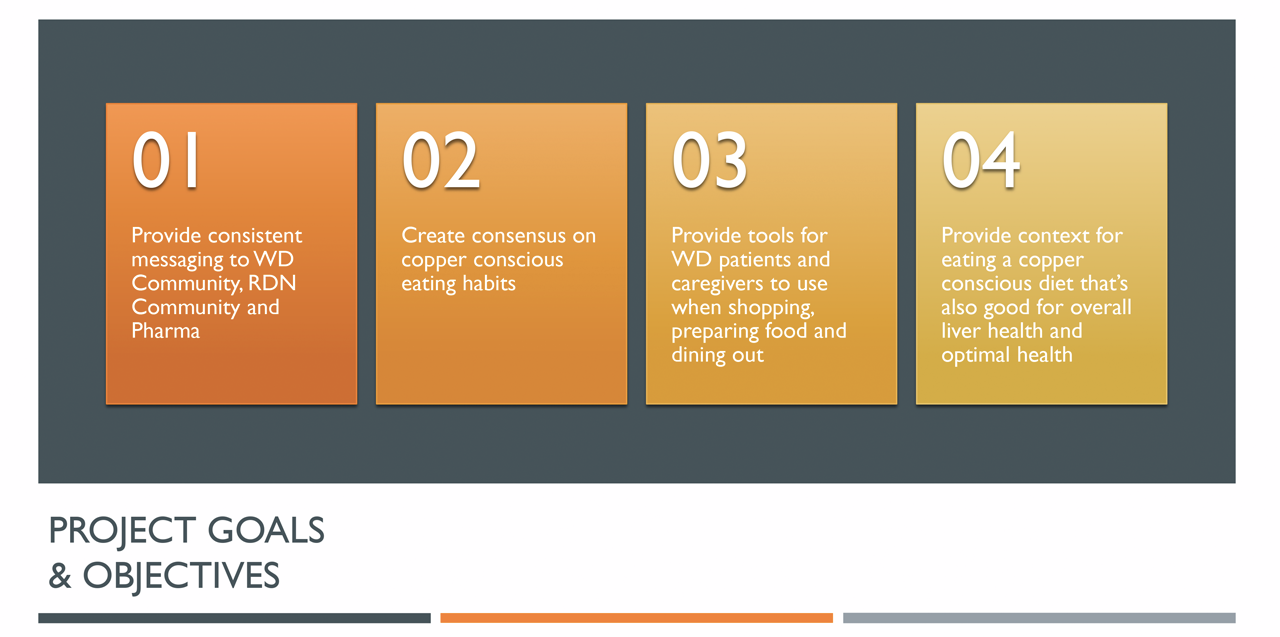 To reach these goals and objectives we plan to offer webinars with nutrition experts and provide time for participant questions, a series of professionally-produced videos and digital materials that can be downloaded from the WDA website. Our team includes three former CNN food and health on-air correspondents who've created their own multi-media companies to educate the public about health and nutrition. In addition, our team includes four RDN's who serve at WDA Centers of Excellence across the United States. Five of our members have Wilson disease and one also works professionally as an RDN in a commercial setting. Two members specialize in the nutrition needs of children and communicating healthy eating strategies that meet the needs of families with growing children.
Our first webinar is designed to launch our educational campaign with a broad overview that will cover the most-often asked questions about copper content and eating. It's scheduled for Saturday, July 30th at noon; details and registration information can be found in this newsletter.
Collectively, our team has the expertise and knowledge to research, produce, write, host/narrate and oversee the graphic design and editing process needed for a professional level video series. While the specific content for videos and future webinars are still in development, these areas are being explored: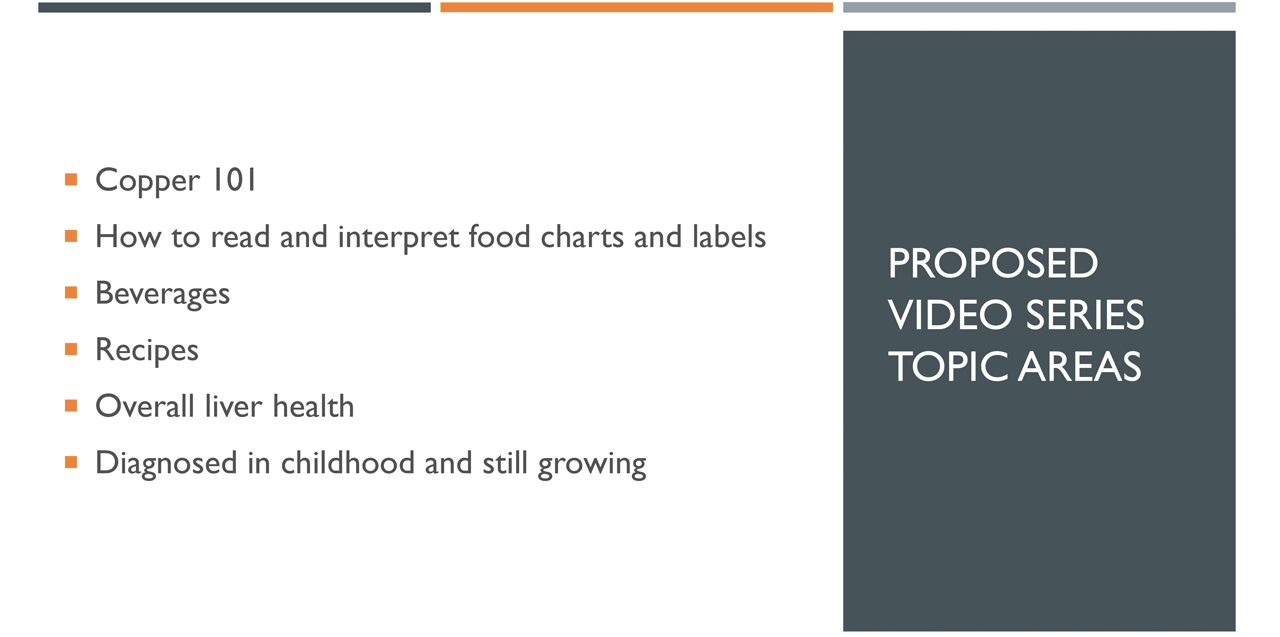 We would like to thank and acknowledge our team that has already put in considerable time to research and plan this content: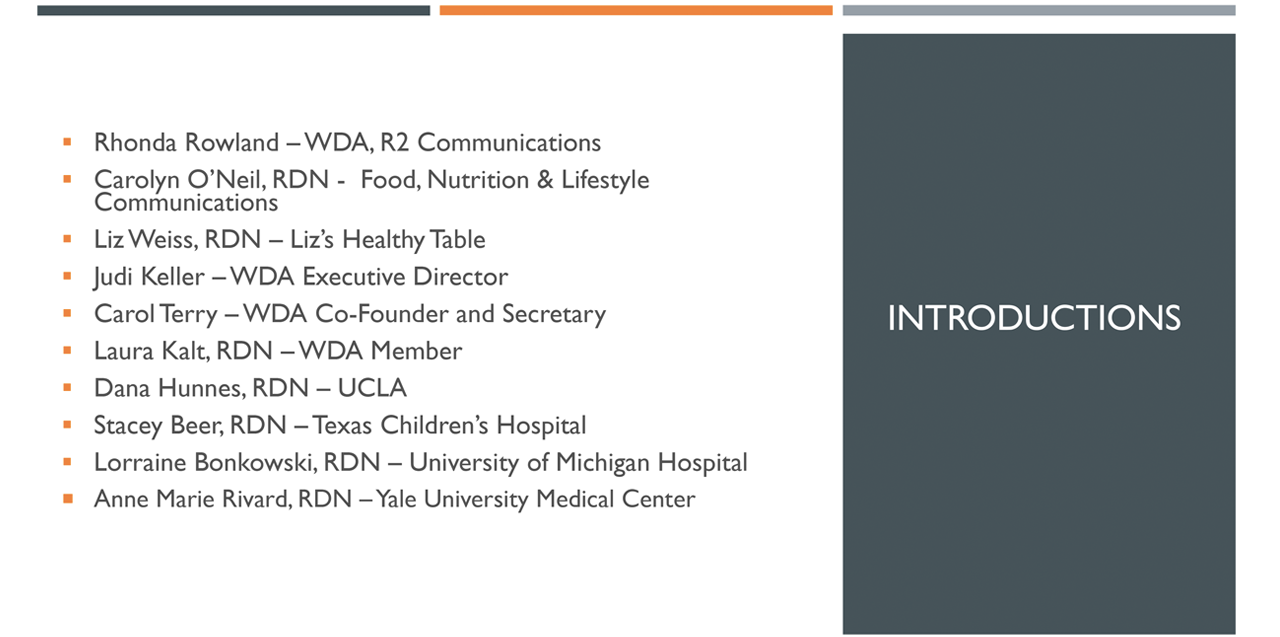 Diet and Nutrition
Food . . . .
Adherence to a low copper diet is most important during the initial phase of treatment. The recommendation is to avoid the foods highest in copper content: organ meats, shellfish, chocolate, nuts, and mushrooms. Once copper levels have stabilized at normal levels, these foods are allowed occasionally. For a comprehensive list refer to the U.S. Department of Agriculture (USDA) website . If you are a vegetarian, please consult a dietician, as many of the foods and protein sources in a vegetarian diet are high in copper. Wilson disease cannot be managed by diet alone. Proper medication is necessary lifelong!
Water . . . . .
Copper content of the drinking water you consume should also be tested. If the water is over 0.1 ppm (parts per million) (which is 0.1 mg/L), consider an alternative water source or invest in a good filtering system that removes copper. Your local community or private water testing firms can perform the testing on your home water supply. If you have copper plumbing in your home, some of the copper content can be reduced by running the water for a while before you use it. As water sits in the pipes the copper leaches into the water. for this same reason, avoid using copper cookware for preparation of food. If you work or reside in a location where the water supply has not been tested, consider using bottled water that does not contain copper.
Vitamins . . .
Consult your health care professional before taking a multi-vitamin. If your physician approves, as your pharmacist to find a good supplement that does not contain copper. If you are a woman who is pregnant, or wishes to become pregnant, please have your obstetrician consult with your hepatologist before prescribing prenatal vitamins. Most prenatal vitamins contain an abundance of copper and these should be avoided.
Other Dietary Supplements . . . .
There are many over-the-counter dietary supplements and herbal preparations that claim to be beneficial for some part of your body. Be cautious about this because many can interact with other prescription medications you are taking. Some can be beneficial but others may actually be injurious to your health. Also, many supplements are processed by the liver and may cause additional liver damage or, in the case of existing liver damage, may not be properly utilized by the body. Please refer to the U.S. Food and Drug Administration (FDA) publications, "What Dietary Supplements Are You Taking? Does Your Health Care Provider Know? It Matters, and Here's Why" and "Dietary Supplements What You Need to Know" these can be found at www.fda.gov/Food/DietarySupplements/UsingDietarySupplements/UCM109760.htm. These contain much useful information about dietary supplements, and personal logs that you can fill in and share with your doctor.